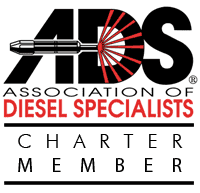 We are committed to offering the best quality diesel fuel injection system repair services & parts for our customers. Family owned & operated since 1948.
For more than 60 years we have continuously met or exceeded the expectations of our customers. Our goal is to provide the most cost effective service solutions for diesel engine owners seeking diesel fuel injection system testing, repair and/or replacement. Our definition of a repeat customer is not one that has to come back to our shop more than once to get the job done right, but rather a customer that comes back for additional diesel fuel injection services because they appreciate the level of quality service they received by Perkins Diesel Service and have other vehicles that need servicing. We also like when customers to refer our oustanding services to others.
Perkins Diesel Service technicians are factory trained and authorized to service most diesel fuel injection systems. We can troubleshoot your diesel engine problem in our shop with our on-board diagnostics tools. Our service department will estimate and advise before performing any repairs to the components of your diesel engine fuel injection system.
We have the experience and expertise to rebuild and repair diesel fuel injection pumps and injectors as well as offering new and remanufactured products directly out of the factory. We also "Pop" test mechanical injectors (no electronics) on our "Pop" tester. Pop testing injectors is a great money and time saving step in diagnosing and troubleshooting your diesel fuel injection system.
Perkins Diesel Service is an authorized service center for the following quality fuel injection products: